| | |
| --- | --- |
| Posted on April 23, 2009 at 6:05 PM | |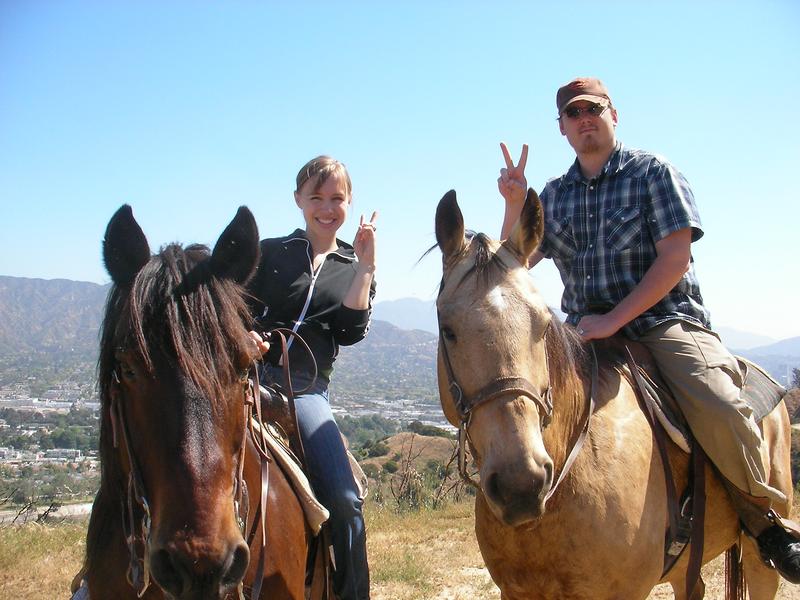 Erica and I celebrated our anniversary this week and we had a load of fun. One of the fun things we did was go horseback riding. It was great just to get away from the busy lifestyle known as Los Angeles traffic and enjoy each other?s company up in the hills and take in the nature. For more pictures you can visit my facebook page (See link on home page). Erica and I are doing great! Since we married we have had so many great opportunities and appreciate all the calls and emails from all of you. We miss our friends of course but luckily there are some great people here in LA too.
Hollywood is a different place. We have already witnessed people we once loved and respected transform into things we never thought possible due to the stresses of this place. Some people place professional success much higher than relational or even ethical success. It is sad to see people act out of fear and use and manipulate people the way they do. This is a place where everyone is trying to get somewhere and many of them are willing to do whatever it takes to get there even if that mean hurting others. What Is amazing is that it is so easy to justify their actions. I have seen friends use and drop other friends and then easily explain it away because of this and that.
Despite that WE are doing great. We both love being married and look forward to what awaits us as we travel this adventuresome road. We have found a good church, some good eating spots, and made a few friends since we have been here. Please stay in touch with us and check out the latest news on my books:
KIDS BOOK
My kids book is nearly out and already preorders have come rolling in. Thus far most of the orders have come from people I don?t even know; which is a good thing since the word is getting out. We have been getting good feedback. To place an order simply click on the Books by Jayce tab on the left column.
GRADUATE BOOK
My graduate book is already out and you can order it here by clicking the Books by Jayce tab on the left column.
Hope all is well with you!
J & E
Categories: Life, Thoughts, and other Ramblings