| | |
| --- | --- |
| Posted on July 8, 2010 at 5:16 PM | |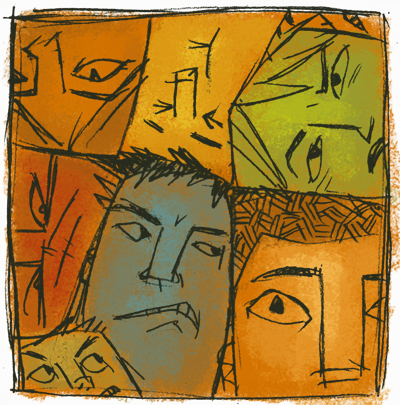 By Jayce O'Neal
7-8-2010
God based his kingdom on love. Therefore, the church should be grounded in love as well as should each of our personal lives and relationships. However, many people do not display fruits of love, but rather deep seeded actions entrenched in enmeshment. What is enmeshment?
Enmeshment refers to a condition where two or more people weave their lives and identities around one another so tightly that it is difficult for any one of them to function independently(Mental Health).
One of the problems with dealing with enmeshment is that on the surface it can look rather healthy and loving. However, when you scratch just beneath the surface you will spot obvious differences. The key difference is that healthy intimacy is based in love, while enmeshment is based in fear.
A healthy family does not want to see their child leave for college, but offers love and support anyway.
An enmeshed family does not want to see their child leave for college, but does everything to keep the child from leaving with manipulation, threats, and often results in cut offs once the child decides to leave anyway. A cut off is when family member or close friend no longer has contact with someone who was once close to them over some sort of conflict. If you see a family or person with a pattern of cutoffs then most likely they struggle with elements of enmeshment.
A healthy friendship creates an atmosphere of trust, so that one feels safe to talk about struggles or issues.
An enmeshed friendship has an unrealistic expectation that he or she must share absolutely everything and also expects the other party to share everything too. There is no room for secrets of any kind. So if Jon tells you something in confidence than the enmeshed friend would expect you to tell them everything. Also, enmeshed friends expect you to feel the exact same way about people as they feel. If they like Adam then you must like Adam. If you don't trust Adam then there is an expectation that you must distrust him too.
A loving friend offers to help and make connections for their friends with no expectation of anything in return.
An enmeshed friend offers help and connections with a price. The price is generally some form of control. If Hannah is enmeshed then she might expect that Britney owes her something for introducing her to Kasey. For example, if Britney decides to hang out with Kasey without telling Hannah then Hannah will feel used. Enmeshed individuals also read into situations and see slights when there really are none at all.
Enmeshment is based in fear and it attempts to control relational outcomes at all costs. There are passive aggressive forms where an individual will tell everyone else that they have an issue with Jessica except Jessica herself. There are also more abrupt versions where an enmeshed individual feels wronged and expresses all of his or her feelings, but usually unless the "offending" party gives in the result is often a cutoff.
A healthy church will create a loving atmosphere that people will not want to leave, but if a member must move or chooses to attend another church then a loving church does everything to help that member make the transition.
An enmeshed church will try to guilt its members to stay and use commitment and loyalty and various scriptures to keep the family from leaving. This is not love, but rather a controlling enmeshed approach to leading people.
Enmeshment can happen in churches, families, and friendships. It can even happen in marriages. If a husband or a wife is rooted in fear they can manipulate the situation and prevent the other spouse from doing anything that threatens the enmeshed individual. For example, a wife who is rooted in fear might not allow her husband to chase after that dream that has always been in his heart, because it threatens her security. Or, a husband might bully his wife from trying out for something she really enjoys, because he fears he might lose control.
Enmeshment can take place between parent and child too. If a marriage is not perfect a mother might look to a son to fulfill emotional needs. She might go to him for all of her issues and expect him to be her primary support system. This forces a child to change to a parental type role and typically is not healthy.
Those who struggle with enmeshment often have been hurt by people they care about or experienced some sort of trauma. This does not excuse the behavior, but does help one to empathize with those who struggle with this issue. God loves them, just like he loves you.
The first thing to do is identify if you or someone you care about has these issues and the next is to ask God to change your heart. The answer lies in the love chapter,
Love is not jealous or boastful or proud. Love does not demand its own way and it keeps no record of when it has been wronged. Love always expects the best of people (and not the worst). 1 Corinthians 13 (modified)
Enmeshment is based in fear and control, but perfect love casts out all fear. Amen.
Mental Health-http://www.mentalhelp.net/poc/view_index.php?idx=37&id=156
Jayce O'Neal 7-8-2010 (c)
Categories: Life, Thoughts, and other Ramblings, Writing